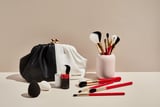 Leave it to Spectrum Collections to come up with yet another incredible Disney brush collection that has us falling in love with our favourite childhood films all over again.
Introducing Spectrum Collection x Disney Villains, a tribute to the perfectly wretched character that is Cruella de Vil (my personal favourite). The collection reimagines some of the brand's best-selling products with an instantly recognisable black-and-white design that matches Cruella de Vil's iconic two-toned hair, while the lacquered red brush handles evoke de Vil's gloves, lipstick, and the lining of her coat.
The collection, launching on the 4th of June, consists of 14 products, including: a 10 Piece Brush Set, a kabuki brush, a two piece sponge set, a makeup bag (that could double as a seriously chic clutch), and the entire collection as a bundle set.
Disney-inspired collections aren't new to Spectrum, they're pretty much experts at them at this point. Previous popular collections have included Minnie Mouse, Snow White, and Little Mermaid. But I've got to admit, this new black, white, and red set is my new favourite.
Read on to see each product ahead of the launch.
Spectrum Collections' Villain Cruella De Vil-inspired set launches 15th June at 6 p.m. and will be available at Spectrumcollections.com, prettylittlething.com, and Amazon.
Credit:
Original article published here.