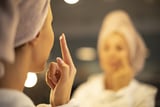 When I first pitched the idea of a round-up of the best over-the-counter retinol products as recommended by skin experts, I was expecting this feature to be a rundown of around eight affordable retinol-spiked creams and serums that you can buy online or in stores without a prescription. But, the thing is, stories don't always pan out how you think they will, and when I put my question to the experts, it fast became clear that almost every dermatologist and facialist rated the same OTC retinol product. But before I reveal the one that came so highly recommended, for those of you that don't know about the skincare ingredient in question, here's a quick retinol refresher.
How Retinol Works
Retinol, which is found in over-the-counter products, is a derivative of vitamin A. In the skin, it's converted to retinaldehyde and then to retinoic acid. That is when it can get to work to rev up skin cell turnover, boost collagen and elastin production, and thicken the skin, so it's stronger and plumper. By essentially tricking the skin into acting younger, over time, you will see that fine lines, pores, hyperpigmentation, and blemishes are reduced.
The prescription form of vitamin A, known as retinoic acid (or retin-A,) doesn't have to go through conversion in the skin, which means it's faster acting; but on the flip side, it can cause irritation. That's not to say OTC retinol won't cause some side effects. Since retinol is turbocharging your skin cells to turnover beyond what is natural for your skin, you may notice some flaking, redness, and sensitivity even though it's more gentle than the prescription form.
To minimise irritation, you should only use retinol at night, wear SPF in the day (even when it's cloudy), and take it easy. Start with a retinol product with a low percentage of the active ingredient (it will often state what percentage is contained in the formula – 0.1 percent is low, whereas 1 percent would be considered fairly high). Sometimes formulas claim to contain more retinol because of clever encapsulating technology, but as a rule of thumb, it's best to start with the lowest concentration your brand of choice offers (if there is an option). Always follow the instructions – some formulas can be applied every night, whereas with some you need to build up to nightly use gradually. Everyone's skin is different, so start applying your retinol cream three nights a week, and if you don't get any unwanted side effects, then build up to four nights, then five, and so on.
The Hero Over-the-Counter Retinol Buy
So, which retinol product comes so highly recommended? Medik8's range of Intelligent Retinol serums. Kate Kerr, advanced facialist and director of Kate Kerr London, puts it simply: "You get a decent dose of retinol at a really good price point."
The serums start at £29 for the 0.3 percent called 3TR; there is the 0.6 percent called 6TR, which is £35; and the 1.0 percent, which you guessed it, is the 10TR, for £40. Each of the three percentages also come in an "intense" formula that is turbocharged with additional skin smoothing and strengthening ingredients. These include squalane, which is naturally found in our skin's lipid barrier and is incredibly nourishing, alongside climabazale, which Medik8 explains in its ingredient glossary is, "able to block the enzyme which breaks down retinoic acid, leaving a reservoir of vitamin A for the skin to use up. This means climbazole strives for maximum vitamin A results, while keeping irritation at an all time low." Why are Medik8's Intelligent Retinol serums so well-loved by facialists and dermatologists? Dr Mark Hudson-Peacock, consultant dermatologist at Stratum Dermatology Clinic, explains that, "the Medik8 retinol is presented in a carrier oil, which is quicker and easier to apply than a cream. It is well tolerated, absorbs quickly, and is effective in what it is designed to achieve." The carrier oil in question is rich in the antioxidant vitamin E, which is great for nourishing the skin but also helps to keep the retinol stable.
Keep reading to discover a few of the expert's favourite formulations in the Medik8 range, as well as several other dermatologist-recommended OTC retinol options for those with oily skin, sensitive skin, mature skin, or even those who have been using retinol for years.
Credit:
Original article published here.